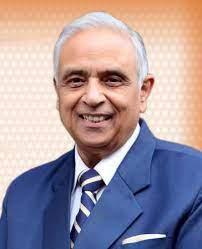 It is a mammoth task - to be a teacher in today's times. But, you are the one; and no one else can do, what you can do.
I am proud of our DAV teachers, who most of the times, may not get the cream of the society to churn out dollops of butter; but being a non-profit, socially serviceable organization, reach the remotest corners of the country to enlighten the ones waiting for the light of education. In those far-flung spots, our teachers manage to whip up absolute magic in their classrooms, shaping empowered individuals for the country. A testimony of their sincerity and dedication is the long, drawn-out list of the illustrious DAV alumni created in every era and every corner of the country over the years.
Engaging today's tech-fed and morally-starved Gen-Z kids, our teachers are striving hard to be one-up and updated all the time; inspire, stimulate, trigger, enthuse and stir up the new generation; to be conversant with the latest teaching techniques; to be able to make the kids autonomous learners; to be capable of steering the curriculum in such a way that lessons and activities get interwoven into the fabric of holistic education; to be well-versed with technology; to be able to inspire the kids to take to values and ways idolized by our Indian thinkers and philosophers; to be able to create opportunities for the kids to grow their talents; to be able to pave a path on which the kids can walk to grow into the deserving and contributing citizens of developed India; and to give the country its promised future.
I strongly believe that no machine can replace a teacher - who is smarter than smartboards, wiser than Upanishads, faster than AI, kinder than parents, friendlier than peers and more resourceful than technology; can inculcate what no 'Google' can teach, shape what no 'Chat-GPT' can create, expound what no 'tuitionwala' can train.
My dear teachers, I am truly proud of all of you and your tireless efforts! My gratitude and regards to every DAV teacher in every corner of Bharat.
May God bless you and keep you healthy, happy and prosperous!
Punam Suri
President
DAV College Managing Committee
and Arya Pradeshik Pratinidhi Sabha